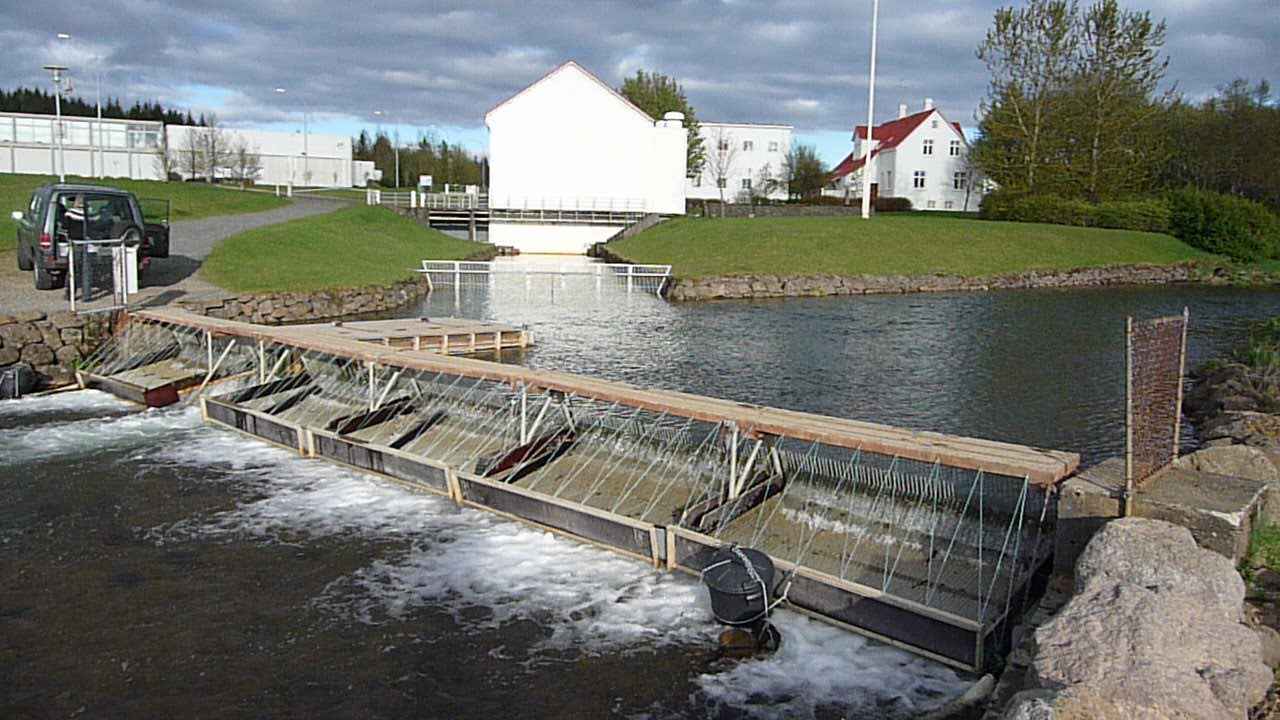 Teljarinn er sta√įsettur √° m√≥ts vi√į
virkjunina √≠ Elli√įa√°rdalnum √≠ Reykjav√≠k
There are no translations available.
Gervitunglag√∂gn yfir fiskig√∂ngur grundv√∂llur √ĺj√≥nustu vi√į √ļtger√įar- og ranns√≥knaa√įila
Greinin birtist í Fiskifréttum 27. mars 2013
√ěr√≥unarverkefni skapar n√Ĺtt fiskleitar√ļrr√¶√įi
Gervitunglafiskmerki gera kleift a√į fylgjast me√į fer√įum fiska og safna uppl√Ĺsingum um atferli √ĺeirra og umhverfi √°n √ĺess a√į sl√≠kt √ļtheimti a√į fiskarnir s√©u endurveiddir. Ranns√≥knafyrirt√¶ki√į Laxfiskar innleiddi 2011 notkun √ĺessara merkja √≠ fiskiranns√≥knum h√©r vi√į land og √≠ √ĺeirri vinnu komum vi√į auga √° t√¶kif√¶ri sem felst √≠ √ĺv√≠ a√į n√Ĺta √ĺessa fjark√∂nnunart√¶kni til a√į auka hagkv√¶mni fiskvei√įa samhli√įa √ĺv√≠ a√į afla n√Ĺrrar hagn√Ĺtrar √ĺekkingar. Grundv√∂llur √ĺess er a√į n√Ĺta sem vi√įmi√į vi√į fiskvei√įar n√°v√¶m landfr√¶√įileg g√∂gn fr√° fer√įum merktra fiska sem afla√į er um gervitungl. Sl√≠kar uppl√Ĺsingar auka s√≥knarf√¶ri √≠ fiskvei√įum b√¶√įi innan og utan √ĺekktra vei√įisv√¶√įa og gera f√¶rt a√į draga √ļr ol√≠ukostna√įi vi√į vei√įarnar. √ör var√į a√į vi√į settum upp √ĺr√≥unarverkefni til a√į fylgja √ĺeirri hugmynd eftir sem n√ļ er unni√į a√į √ĺv√≠ a√į fj√°rmagna me√į styrkums√≥knum √≠ ranns√≥knasj√≥√įi. Hugmyndin var kynnt fyrir √ļtger√įarfyrirt√¶kjunum Brim, HB Granda og √Ėgurv√≠k sem √¶tla a√į taka √ĺ√°tt √≠ verkefninu me√į √ĺv√≠ a√į leggja til pr√≥fanir √° a√įfer√įafr√¶√įinni. Auk √ĺeirra taka √ĺ√°tt √≠ verkefninu √Ārni Geir P√°lsson vi√įskiptafr√¶√įingur og Gu√įmundur Geirdal sem gerir √ļt b√°tinn G√≠sla K√ď 10 en hann hefur um nokkura √°ra skei√į unni√į me√į Laxfiskum a√į ranns√≥knum √° sj√°varfiskum.
√ěr√≥un √° v√∂ktunar√ĺj√≥nustu 'Äď Fiskisl√≥√įin
√ěr√≥unarverkefni√į ber nafni√į Fiskisl√≥√įin og er √≠ reynd tv√≠virkt √ĺv√≠ √ĺj√≥nustan sem veri√į a√į √ĺr√≥a sinnir √≠ senn √ļtger√įar- og ranns√≥knaa√įilum. Lagt er upp me√į √ĺa√į a√į √ĺeir sem grei√įa fyrir √ĺj√≥nustuna f√°i 'Äútvo fyrir einn'ÄĚ enda myndu b√¶√įi √ļtger√įara√įilar og ranns√≥knara√įilar √° bor√į vi√į Hafranns√≥knastofnun geta n√Ĺtt √∂ll g√∂gn sem afla√į er.
Read more...
The fidelity of wolffish towards feeding area in fjord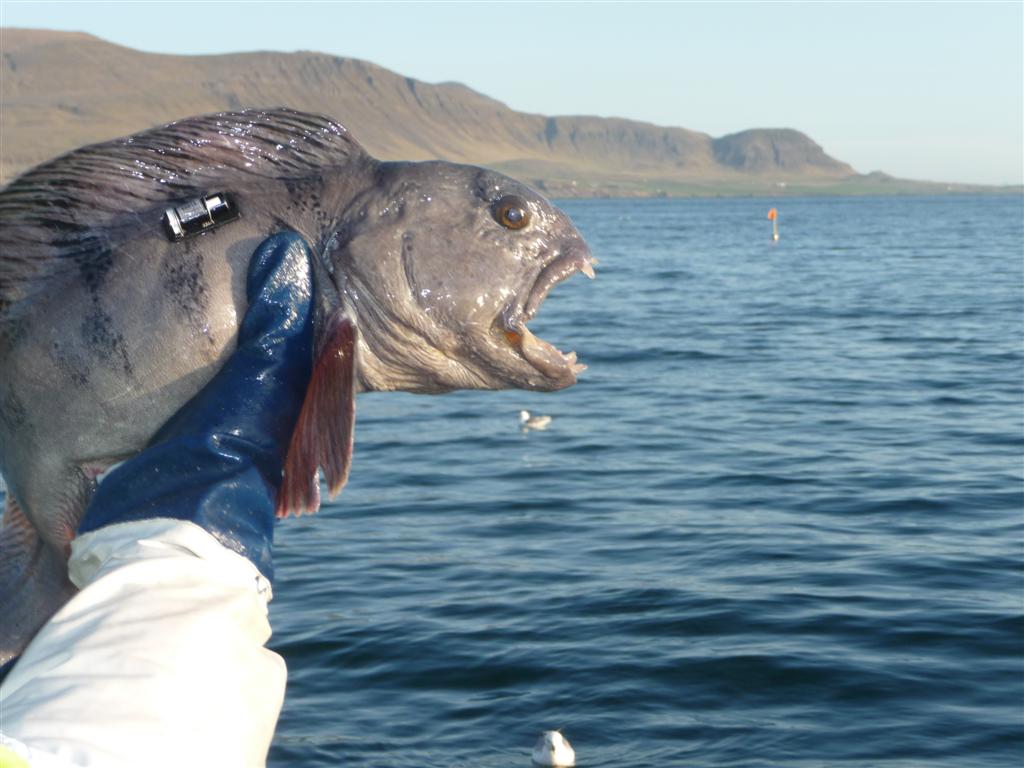 Movements and migration behaviour of common wolffish (Anarhichas lupus) were studied in Fjord Hvalfjordur W-Iceland throughout June 2010 'Äď March 2012. Sampling on the geographical distribution and depth of the wolffish during their stay in Hvalfjord was carried out by tagging fish in June 2010 and May 2011. Using ultrasonic transmitters and by monitoring by logging the dwelling of those fish within detecting area of stationary listening stations throughout the fjord area. Main aim of the study was to map the movements and migration patterns of wolffish in infjord area in relation to time of the year and environmental factors.
The information received represent the first data on migration behaviour of wolffish individuals in Icelandic waters including data covering period of 34 months. The dwelling of wolffish (67-77 cm in length) within detection area of the receivers and their movements between them has given information on how they utilise the fjord area and on their travelling speed. The wolffish forage in Hvalfjord from January until end of August but are in outer areas in-between due to spawning and the migration involved before and following spawning. Following spawning the wolffish entered the feeding grounds of Hvalfjord in January - April where most of them stayed until June - August when they migrated out of the fjord in the beginning of the spawning migration or just before. The recorded depth of wolffish in Hvalfjord was ranging from 22 to 49 m and their mean travelling speed when moving between stations where mainly 0,2-0,4 km with instances of higher mean speed, up to 2.5 km/hour. During the summer the wolffish showed generally fidelity to narrow feeding areas as reflected by their staying within detection area of receivers (0,5 km2 +/- 0,3 km2), with examples of such dwelling of individual within range of one station for 20-63% of its time every week for 3 months. The annual monitoring of wolffish in Hvalfjord showed that they entered this feeding area year after year. The best example of this fidelity of wolffish towards their feeding grounds in the fjord area is the dwelling of two wolffish there for 3 years in a row. This first tagging of wolffish with electronic tags in Icelandic waters have given new information on behaviour ecology of wolffish that are valuable to improve further research on the fish and serve as important references when decisions concerning utilisation of wolffish are taken. In December 2012 report was published (in Icelandic with English abstract) revealing results of the wolffish study 2010-2012 that can be accessed here: G√∂nguheg√įun steinb√≠ts √≠ Hvalfir√įi
Read more...
Thursday, 24 January 2013
N√Ĺ sk√Ĺrsla um √ĺorskranns√≥knir
√Āfangask√Ĺrsla um kortlagningu √° g√∂ngulei√įum √ĺorsks me√į gervitunglamerkjum er komin √ļt
√ć desember 2012 voru birtar √≠ sk√Ĺrslu fyrstu ni√įurst√∂√įur ranns√≥knar Laxfiska √° √ĺorski me√į gervitunglafiskmerkjum fr√° merkingum vori√į 2012. Vi√į erum stoltir af √ĺv√≠ frumkv√∂√įlastarfi sem f√≥lst √≠ √ĺv√≠ a√į hefja √ĺorskranns√≥knir √° veraldarv√≠su me√į √ĺessari t√¶kni og s√©rlega √°n√¶g√įir me√į √ļtkomuna. T√¶knilega gekk verkefni√į upp √ĺv√≠ √∂ll √°tta merkin skilu√įu af s√©r uppl√Ĺsingum um fer√įir √ĺorskanna um gervitungl. Landfr√¶√įilegra uppl√Ĺsinga um fer√įir √ĺorskanna er afla√į √°n √ĺess a√į √ĺ√∂rf s√© √° a√į endurvei√įa √ĺ√° til a√į endurheimta rafeindafiskmerki √ĺeirra. √ěa√į a√į uppl√Ĺsinga√∂flunin s√© ekki vei√įih√°√į gerir me√įal annars kleift a√į afla uppl√Ĺsinga um fer√įir fiskanna utan hef√įbundinna vei√įisv√¶√įa og um um afdrif √ĺorska sem enda √¶vina √≠ maga afr√¶ningja l√≠kt og √ĺorskurinn J√≥nas √≠ hvalnum var d√¶mi um. Laxfiskar vinna n√ļ a√į √ĺv√≠ a√į √ļtf√¶ra og fj√°rmagna framhald √ĺessara ranns√≥kna.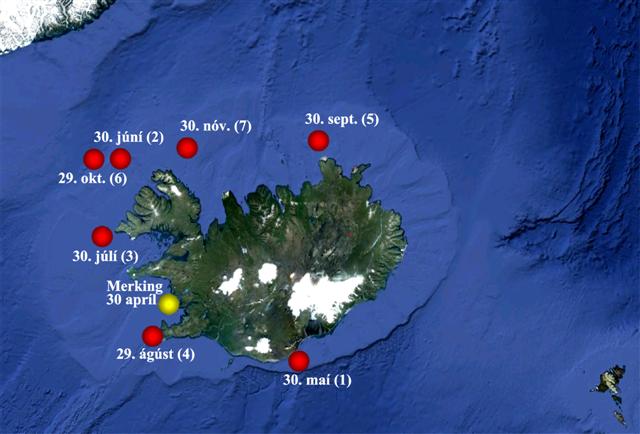 Tuesday, 06 November 2012
Cod with satellite tag eaten by a whale contributes to science
Sperm whale diving behaviour recorded in the N-Atlantic following predation on Atlantic cod tagged with pop-up satellite tag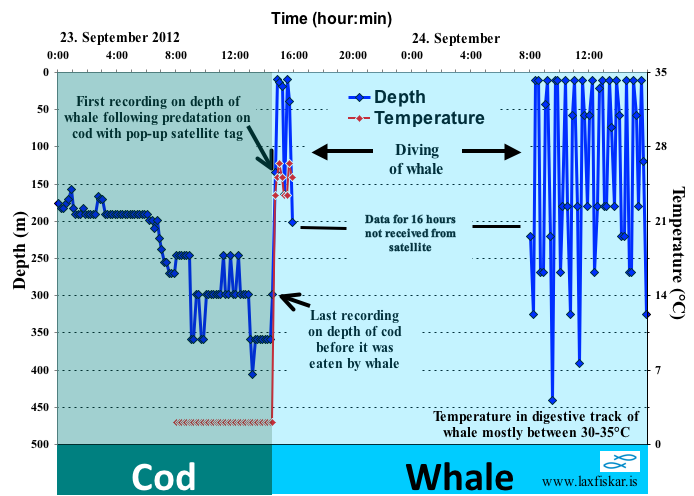 In a study on Atlantic cod using pop-up satellite tags (PSATs), carried out by Johannes Sturlaugsson and colleagues at the research company Laxfiskar (Cod PSAT Research Project), one of the cod was eaten by whale. That gave remarkable insight into such event but moreover changed the study on that cod behaviour ecology into study of whale behaviour. The cod had carried the PSAT for nearly 5 months and was at 300m depth in cold sea (2.1¬įC) in Icelandic waters when eaten by the whale as shown in figure.
Read more...
Thursday, 01 November 2012
Atlantic cod (Gadus Morhua) tagged with pop-up satellite tags (PSATs)
- Introduction of the study and first results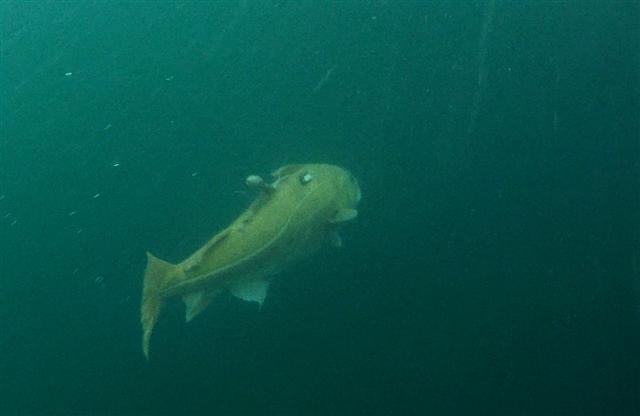 At the end of April 2012 the research company Laxfiskar in Iceland started pioneering research
on migration and behaviour of Atlantic Cod, when 8 cod were tagged with pop-up satellite tags. Tagged cod were big spawning fish, ranging from 105 to 136 cm in length. Tagging site was spawning ground in Bay Faxafloi off SW-Iceland.
This study is the first one to use pop-up satellite tags to study Atlantic cod migrations.